Digital Paid Media Fragmentation and How to Allocate Your Marketing Budget
For the past several years we have operated as marketers with a fairly limited set of media options. Google and Facebook have been dominant players and Amazon has been turning on the gas. It feels like these 3 advertisers get 90+% of digital media dollars, but the data would suggest that they make up 64%. However, over the last few years we have a seen a growth in other media types that will begin to challenge and fragment these giants of digital ad dollars.
Here are just 4 proof points to this theory;
Amazon did $31B in ad revenue in 2021, or roughly size of 4 Peleton's based on marketcap. That was up from $21B in 2020.
Newer Marketplaces such as - Walmart, Best Buy, Target, and Instacart. All have spun up sizeable digital media engines. For example, Walmart is $2.1B alone.
TikTok - Did $4B in 2021 and is looking to triple that amount in 2022. This app is eating Facebook/Meta's lunch with younger viewers and is on the mind of a lot of marketing execs. In fact, 67% of users on TikTok said they were inspired by the community to shop, even when they weren't looking to do so - eMarketer
Apple Search Ads - this was the fastest growing ad network in 2021 according to Singular. It would make sense that they are winning given the iOS privacy changes and their impact to the cookie and data market overall.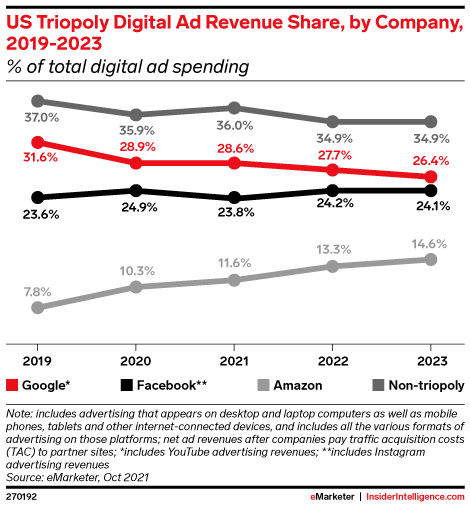 So what is the impact if these other networks are starting to build power and influence in the space? How should marketers react? Here are 3 key things to consider when planning how to allocate your marketing dollars;
1. The total pie is growing - The total digital media spend is expected to grow by 20% and has accelerated over the past 2 years. This means that you might not need to reallocate dollars from your existing budget, but instead look for ways to add to the total pie. Should traditional media be transitioned to marketplace advertising? Should linear TV be moved to Connected Programmatic video buys?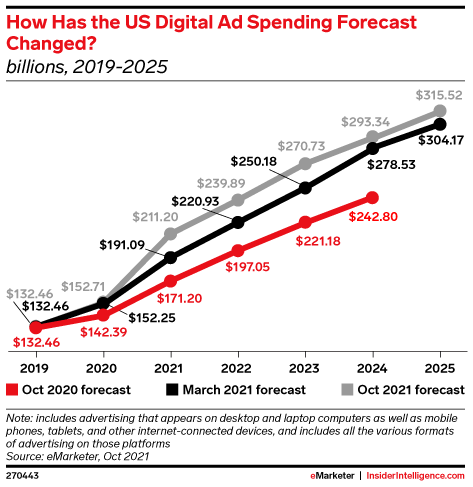 2. Where are your customers? Just because there are more places to spend, doesn't mean you need to be in all of them. As a brand you should have a solid idea of your target audience and their browsing habits. This will help you refine your strategy to focus on the areas of greatest impact. The ability to know what your customers want from your brand and where they expect you to be can help you focus and deliver higher quality experiences and therefore results.
3. Have a test budget - The wonderful thing about digital marketing is the amount of data it provides you to make decisions. If you want to know if a blue background is better than a red background on a landing page you test it. So why would digital media channels be any different? Carve out 10-15% of your budget to keep for tests. These can be run on new platforms or channels, different media executions, or simply being more aggressive in existing channels. Digital marketing is changing all the time and one easy way to stay current is to test what's new. Finally, don't assume because it didn't work that it isn't right for you. Often the platforms improve their targeting or your brand uses a different approach that will yield different results. A.B.T….Always Be Testing.
The evolution of digital marketing through is amazing. New channels, tactics, and platforms are popping up all the time. Your ability to be successful is driven by your willingness to learn, be flexible, and use data to create a quality customer experience. Some of these emerging platforms are the perfect way to do this.
Subscribe to Stay up-to-date with blogs, tips & tricks and more.