Google Analytics 4 Warnings - Should You Be Worried?
At AirTank, we understand the paramount importance of data-driven marketing in today's dynamic landscape. That's why we have been tracking the need to transition to Google Analytics 4 (GA4) – the game-changing analytics solution that unlocks the full potential of your data. With GA4, you'll gain a unified view of customer journeys, compliance with privacy regulations, advanced insights, and integration with Google marketing products.
Here are some of the key points we have observed from the analytic migrations we have already completed:
Warning Notes From Google Might Not Need Action - Starting July 1st, 2023 universal analytics will no longer be supported and process data. Within universal analytics, you might see two notifications. If you have GA4 setup, it will prompt you to go to the GA4 property.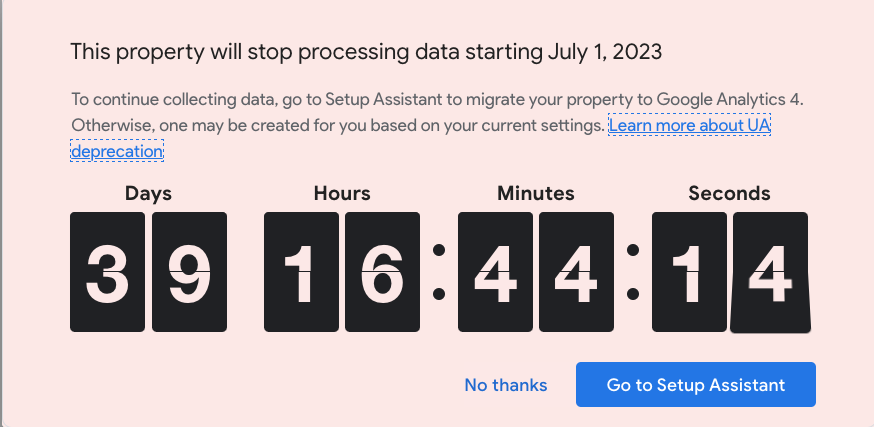 If you don't have a GA4 property created it will request you begin the migration process.

If you did not go through the migration process and created the GA4 property manually, you will get prompted to connect a UA property. We recommend selecting your main UA view to resolve this message or depending on what the data stream is, the UA view that is most applicable.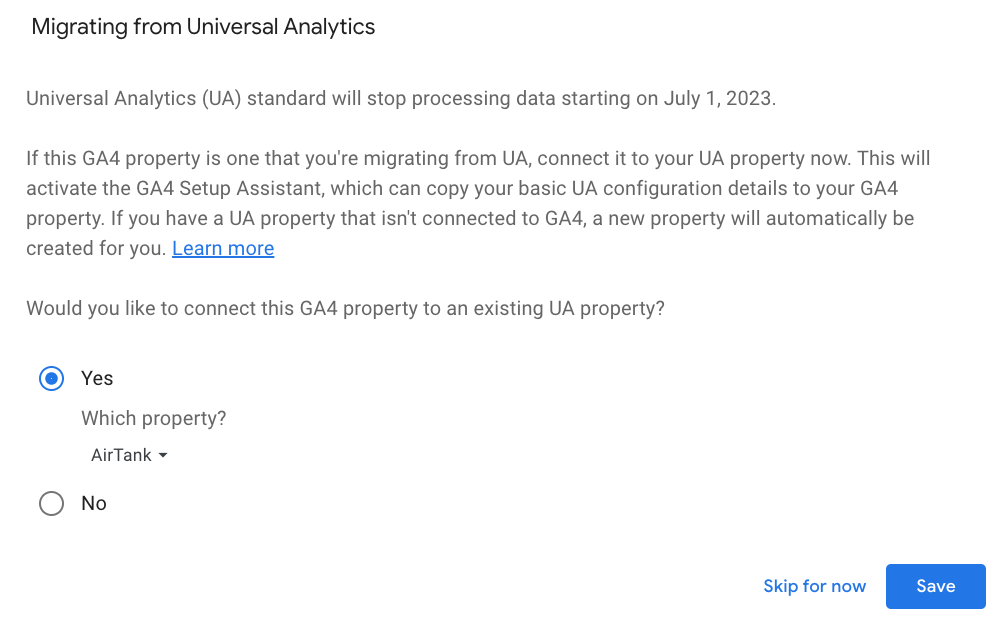 Once the GA4 property is created, Google gives you a checklist via setup assistance. There could be instances that might not be applicable to your website. We recommend going through the checklist and marking each item once they are completed.

This can include:

Data streams created (this would be a view in Universal Analytics)
Turning on Google signals for ad personalization
Creating events & conversions
Define custom audiences (users who complete a certain event, conversion, or visit a page..etc)
Link your Google Ads account

Search Console and Merchant Center are not included in the setup assistant, it is recommended to connect those, which can be found under the product links section within the GA4 property.

The merchant center is for eCommerce clients who utilize Google Shopping.

Setup any IP exclusions if you do not want to track those users
If you run into any issues as you look to migrate to Google Analytics 4 or just want to save some time/effort, we would be happy to help! We've migrated eCommerce, B2B, and Lead Generation sites to GA4. We can help you beat the clock and keep your analytics running smoothly!
Click here to chat with one of our GA4 experts!
Subscribe to Stay up-to-date with blogs, tips & tricks and more.