How We Are Using Artificial Intelligence at AirTank
Unless you have been living under a rock, Artificial Intelligence and specifically ChatGPT-3 has come up in conversation at work, with your friends, and on the news. It seems like it is something that has burst onto the scene and has every business racing for its answer. Google Trends data for ChatGPT shows that interest came out of nowhere and is still rising.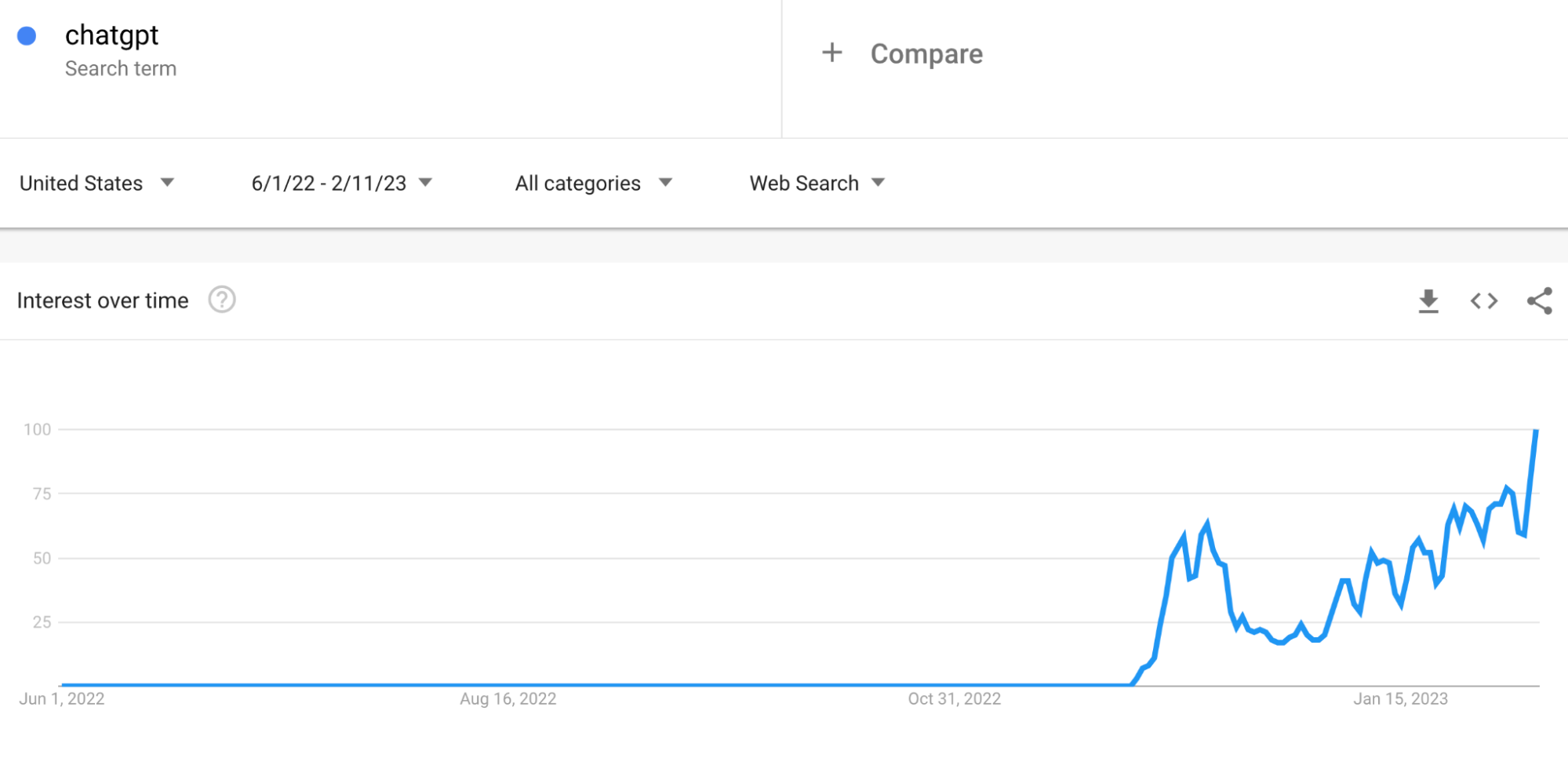 In fact, ChatGPT set the record for the fastest to reach 1 Million users in just 5 days, beating Instagram, which took 2.5 months. That seems like an eternity in comparison. But ChatGPT was just the rock in the pond – it's the ripples that you need to watch out for. Microsoft looked to capitalize on its investment by putting ChatGPT behind Bing. Google couldn't be left behind and quickly announced Bard.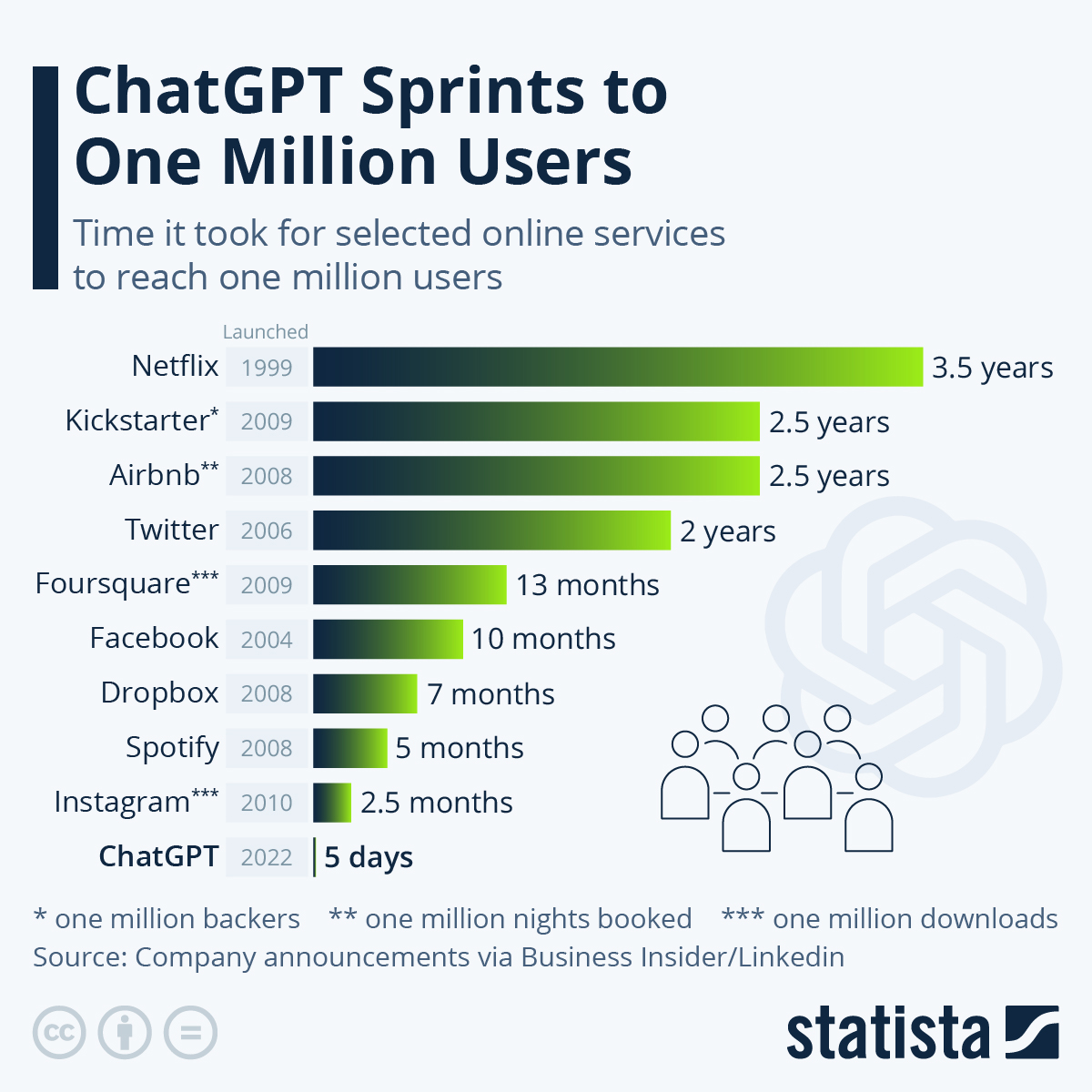 Now, it's your turn. Your boss or client just turned to you and asked, "What does this mean for our business?" or "What are we doing with AI?" According to Marketing AI Institute's 2022 State of Marketing AI Report, 52% of marketers say AI is very or critically important to the success of their marketing in the next 12 months. But only 17% said they were in the scaling phase of marketing AI transformation, characterized by wide-scale adoption of AI that is consistently producing efficiency and performance results.
At AirTank, we think AI will influence and support everything we do. There will be tons of new value created from these tools as they infiltrate every business from the law to dentistry. However, the fundamental things we do as consumers and businesses will largely stay the same. We still will take an Uber to get to the airport, but AI will find the most efficient path to take.
For your business, we think there will be 3 keys to think about AI.
1. Unique data sets - AI models are only as good as the data they are trained on. So while ChatGPT is an incredible demonstration of AI's capabilities, it is trained on a broad set of publicly available data. This should trigger an internal discussion around what data-sets your business might have that can be inputted into AI to provide better results for your clients. For example, Uber has more data on where customers are going and when. Netflix knows more about what customers are watching, when, and on what devices. Facebook knows more about your social behaviors, your location, and likes. These are just some examples of unique data sets that can be used to provide a differentiated data set.
2. Using the right tools and platforms - This is going to bring out a wave of new companies who are built on AI from the ground up, as well as legacy businesses who are looking to infuse AI into what they have been doing. The tools and platforms you choose in your business will give you the advantage. In some cases, those tools are available for you in what you have already been doing (ex. Google Performance Max Campaigns or Facebook Advantage+). In other cases, they are new tools you need to invest in, like a Drift Conversation Cloud as a CRM, or Jasper.AI as a content generation tool.
3. Those who test will win - Earlier this year, the Marketing AI institute wrote a blog post stating that the future of business will be AI or obsolete. This doesn't mean you have to drop all that you are doing and turn to AI for everything or your business is toast. However, it should give you an indication that you should at least start testing. Finding ways to make small changes and begin to test is key. Putting it into your business objectives, incentives, and expectations is a good starting point. Don't be afraid of what AI will take from you. Be excited about what it can add.
At AirTank we have 3 current use cases in our business;
1. Using AI based tools in various media platforms, for example Google's Performance Max campaigns and Enhanced conversions. Facebook's Advantage+ and various DSPs for Programmatic.
2. Content generation tools like Jasper.ai are used to help write content. We utilize these tools as a starting point which is always augmented by our content team. However, the improvements to speed and efficiency for us and our clients is tremendous.
Building unique and specific Machine Learning algorithms for our clients. These are specifically valuable when you have unique data or customer experiences you are trying to create. Read more about one of our examples for a higher education brand where we increased the conversion rate by 20% using AI and ML. Case Study for Artificial Intelligence.
Standing on the sidelines isn't an option. At AirTank we certainly don't have everything figured out, but we are excited about the possibilities and eager to help our clients navigate this new AI-driven world. Contact us today to see how we can help.
Subscribe to Stay up-to-date with blogs, tips & tricks and more.